Thursday, November 14th, 2019
"We're so thrilled with the volunteers of Myrtle Beach that come and serve and help assemble the care packages. Every one is assembled with love because every care package is going to a military family member. Most of the military will be away from their loved ones this holiday season, and this is just a simple way to say thank you for their service," Rumley said.
---
Tuesday, May 21st, 2019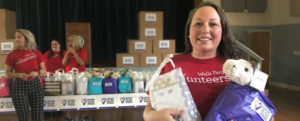 "Wells Fargo is more than a team of volunteers to us at Support Military Spouses. It's a group of people we call family, who make everything we do possible."
— Diane Rumley
---
Thursday, May 16th, 2019
"Volunteers with 'Support Military Spouses' made sure military spouses and children are cared for. Dozens of volunteers gave our hundreds of care packages in North Charleston Thursday morning." – Michal Higdon, Live 5 News
---
Friday, May 10th, 2019
---
Wednesday, May 8th, 2019
---
Saturday, December 1st, 2018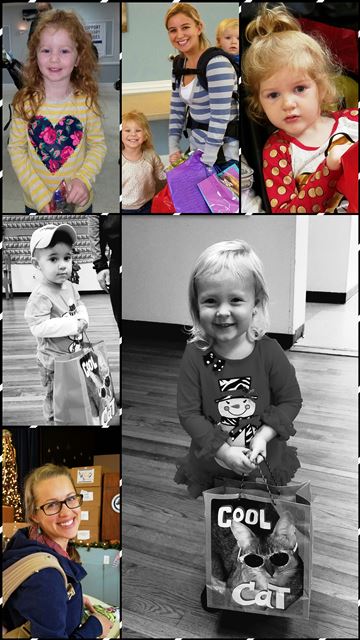 One Thousand Military Spouses & Children to Receive Christmas Care Packages Penske & Hallmark Help Local Non-Profit to Deliver Smiles to Military Spouses & Children
WHO: Media, Military Spouses & Children are invited to attend
Spouses register at www.SupportMilitarySpouses.org
WHAT: Support Military Spouses Christmas Care Packages delivery party.
Fayetteville military spouses and children will receive a free Christmas Care Package.
WHEN: Friday, December 14th, 2018 10:30am – 11:30am
WHERE: Manna Church, 5117 Cliffdale Road, Fayetteville, NC
WHY: "Christmas is a time of giving, and military families give so much," said Dr. Steven and
Diane Rumley, Co-founders, Support Military Spouses. "These Christmas Care
Packages, allow us to say thank you on behalf of a grateful nation."
About Support Military Spouses
CHRISTMAS CARE PACKAGES FOR MILITARY SPOUSES & LITTLEST HEROES is the nation's only program of its kind, and is the flagship of Support Military Spouses. Each Christmas Care Package for a military spouse contains a wide array of gifts, including jewelry, Hallmark gifts and a Bible. Each Christmas Care Package for a military child contains toys, a stuffed animal and a Book about Jesus.
---
Tuesday, October 16th, 2018
---
Friday, October 12th, 2018
You are invited to contribute your time and talent to bring some encouragement to a military spouse as a Care Package Assembler Volunteer at Support Military Spouses Care Package Assembly Party!
WHO: Dedicated volunteers who want to brighten the lives of military spouses
WHY: Every single Appreciation Care Package that is delivered must be carefully assembled and prepared for delivery. Volunteers play a vital role in creating an encouraging experience for military spouses and their children during the Christmas Season.
WHEN: November 13, 14, & 15th 2018
9am – 11am 1pm-4pm
WHERE: Myrtle Beach Mall 10177 N. Kings Hwy
Support Military Spouses – Space E9
(Outside Bass Pro Shops on the left as you enter the mall)
Myrtle Beach, SC 29572
---
Friday, June 3rd, 2016
WHO:        Military spouses, active-duty service members & Veterans
WHAT:      Dinner & Learn Workshop: Money Management & Job Skills Training
WHEN:     Columbia- Wed. June 15th 6-7:30 PM Fort Jackson Family Homes 420 Brown Ave.
Sumter- Thurs. June 16th 6-7:30 PM YMCA of Sumter 510 Miller Rd.
WHY:        Join Support Military Spouses June 15th & 16th for advice from local Hiring Managers on finding a job and Money Management tips. FREE DINNER & SPECIAL GIVEAWAYS for attendees!
Space is limited and registration is required at www.SupportMilitarySpouses.org
Presented in partnership with the Walmart Foundation, Wells Fargo, Fort Jackson Family Homes, ACS Employment Readiness Program, Sam's Club and YMCA of Sumter.
---
Tuesday, May 3rd, 2016
Support Military Spouses to Make Special Deliveries Thursday, May 19th
WHO:            Media and Military Spouses & their families are invited to attend
WHAT:          Support Military Spouses Appreciation Care Packages delivery party.
                      Charleston military spouses will receive a free Appreciation Care Package, a gift for their
active duty spouse, and gifts for their children.
WHEN:          Thursday, May 19th, 2016 09:30am-10:30am
WHERE:       Felix Davis Community Center – 4800 Park Pl E, North Charleston, SC 29405
WHY:            "Military spouses and their families sacrifice for the freedoms we enjoy," said Dr. Steven and Diane Rumley, Co-founders, Support Military Spouses.  "By giving a Care Package, we wish to say thank you on behalf of a grateful nation."
---