Care Packages for U.S. Military Spouses
Friday, January 29th, 2016
---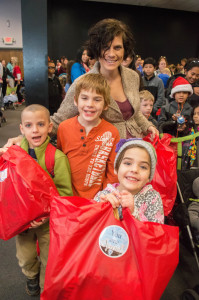 Every year thousands of Care Packages are delivered to deserving family members of active-duty military in the Carolinas and Georgia from Support Military Spouses.  They receive items like jewelry, stationery, gourmet coffee, a Caring Card thanking them for their sacrifices and most importantly a New Testament.
We receive many Care Package requests or loved ones of active-duty military throughout the United States.  We are excited to share that for the first time we were able to send Care Packages to deserving military spouses all over the US!   
In October 2015, SMS launched a social media fundraising campaign; the Push Up Challenge.  Friends, family and military community members were encouraged to donate $1 per push up, make a video, and challenge friends on social media to do the same.  Check out the videos on our Facebook!  Based on participation in the Push Up Challenge, we promised to provide as many Care Packages as possible to military spouses in the US who signed up during that time.
These Military Spouse Care Packages reached 20 different states.  From our headquarters in South Carolina they were sent as far as California, Hawaii, Texas and Washington.  We were honored to touch military spouses in the US that normally we wouldn't be able to impact.  The role that spouses of active-duty military serve is essential and we believe they should be honored.
"Thank you for the package. It was a nice surprise and very appreciated.  Thank you so much for brightening my day!" – Sarah, California Military Spouse
For more information on how to get involved in the Push Up Challenge, email friends@supportmilitaryspouses.org.
---
---
Support Military Spouses to Host Job Fair in Jacksonville, NC
Nonprofit to Host Free Dinner & Learn: Money Management & Job Skills Workshop for Jacksonville & Goldsboro Military Spouses
---