Tuesday, January 17th, 2023
https://www.msn.com/en-us/news/us/military-spouses-and-children-receive-free-christmas-care-packages/ar-AA14Q6By
---
Friday, February 5th, 2021
---
Thursday, December 17th, 2020
https://www.jdnews.com/story/news/2020/12/04/support-military-families-serves-700-families-drive-thru-event/3830116001/
---
Thursday, December 17th, 2020
https://abc11.com/community-events/fort-bragg-military-spouses-receive-christmas-gift-care-package/8503586/
---
Thursday, December 17th, 2020
https://www.fayobserver.com/story/news/2020/12/05/organizations-partner-fayetteville-give-back-military-families/3812468001/
---
Thursday, December 17th, 2020
https://abc11.com/community-events/fort-bragg-military-spouses-receive-christmas-gift-care-package/8503586/
---
Friday, December 4th, 2020
https://www1.cbn.com/superbook-mega-giveaway-military-families
---
Thursday, December 3rd, 2020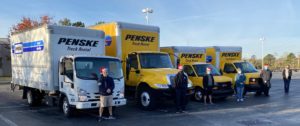 Four Penske rental trucks armed with Santa's helpers traveled across the Carolinas on December 3rd bringing presents to Support Military Families (SMF) community partners for distribution to military families.  Along with the presents they brought a much-needed dose of Christmas cheer.
The visits to Charleston, Fayetteville, Goldsboro and Jacksonville were part of SMF's annual Christmas care package delivery which distributed 2,000 Christmas care packages for adults and children.
While the coronavirus pandemic made the normally festive event a contactless affair, it did not dampen the excitement for military spouses and their children, who look forward to the event each year.
The spouses are even more appreciative this year because of the pandemic," said Diane Rumley, who co-founded SMF in 2009 with her husband, Steven.
A Season of Giving
Originally founded as Support Military Spouses, the name was changed last year to reflect the charity's broader mission to support military families and children. The non-profit's goal is to thank every U.S. military spouse for their sacrifice by providing them with a care package.
The first care package delivery was in 2010 to celebrate military spouses. Mrs. Rumley remembers packing up a Penske van with 35 shoeboxes filled and donated by caring individuals, and delivering them to Seymour Johnson Air Force Base in Goldsboro, North Carolina.
In addition to the Christmas distribution, SMF also hosts a care package delivery in May during Military Spouse Appreciation Month, but that was cancelled due to the pandemic.
"We decided to focus on the 2,000 care packages for Christmas because we have been doing this for so many years," Mrs. Rumley said. With today's distribution, the charity has distributed 72,000 care packages.
With more trucks, SMF needed more drivers to help Santa make deliveries. So, Mrs. Rumley turned to the North Myrtle Beach Fire Department which provided firefighters and city employees to help load and drive the rental trucks
The pandemic provided logistical challenges for distribution. Instead of visiting one city per day, SMF visited nine locations across four cities. "At every one of them we followed contactless, safe COVID policies and procedures," Mrs. Rumley said.
Having the use of four Penske trucks this year made all the difference.
Delivering Christmas Cheer
Penske Truck Rental, a SMF founding partner, has supported the non-profits work to honor the service and sacrifice of military families. The company provides rental trucks to help transport the care packages and donates Penske Truck Rental Activity Books for children.
In past years, our associates sent the organization holiday cards with personal messages of support for military families which were inserted in Christmas and Military Spouse Appreciation Day care packages.
"The value that SMF places with our relationship with Penske is immeasurable. It all began with Penske and has grown to be the largest care package distribution event for military spouses and their children in the nation," Mrs. Rumley said.
"When the spouses see the truck to them it is the 'Penske Sleigh' and they know to look for it," she said. "It not only represents encouragement, but it brings joy and it honors their sacrifice here at home and that in itself is what the spouses appreciate the most."
By Bernie Mixon, Penske
---
Wednesday, November 18th, 2020
https://www.wmbfnews.com/2020/11/18/organization-assembles-christmas-care-packages-military-families-myrtle-beach/
---
Wednesday, November 18th, 2020
Group brings 'north pole' to Myrtle Beach to fill Christmas care packages for military spouses, children
---